Bonkers about burgers? Never thought I would be until last week's evening out at Meatcure Bedford. Located at 100 High Street in Bedford, Meatcure has actually been a part of the foodie scene since its launch in 2016. With new management and introducing new menus every season, they are set to go big.
Meatcure Bedford is part of the Meatcure franchise with joints in Hinckley, Leicester and Market Harborough even though the invite to their new menu launch was the first time I heard of the chain. Curious to find out more and perked by the idea of Prosecco and burgers, of course I headed to Meatcure, tagging Mr O. along.
Boasting a central location in Bedford, Meatcure has got its eye on the prize for the best burgers in town. Their light, airy interior and retro American diner decor should appeal to both families and the younger crowd. As Hubby pointed out, it delivered well on hipster vibes without being too uppity to turn off the non-hipster crowd.
The menu is tight – they know  what they do well and they are sticking to it: burgers! With slides doing the rounds all evening, we were way too full to try on most, but had the chance to sample a couple. With movie inspired quirky names, the "impossibly good burgers" (to steal the Meatcure tagline) are delightful to the ear but more so to the tastebuds.
We tasted Royale with Cheese (beef patty, meted cheese, lettuce, tomato, dill pickle and smoked mayo) and Smokey and the Bandit (beef patty, melted cheese, lettuce, tomato, smoked streaky bacon, onions, smoked mayo, BBQ sauce) which both delivered on taste. Even Mr O. who had always been a bit puzzled by the notion of bacon in burger was sold on Smoke and the Bandit while I was devouring my royal treat of Royale with Cheese.
The sizes were manageable too so you won't be tempted to reach for cutlery just to avoid wearing your dinner on your top by the end of mealtime. We managed a few bites of Field of Dreams because who wouldn't want to try grilled halloumi and Portobello mushrooms alongside garlic butter, red cabbage, lettuce and tarragon mayo?
The sides are equally tasty. Anyone who likes their chilli or claims they can take the heat, I dare you to try the jalapeno bites. Even my palate that has been trained with peppery Nigerian cuisine for years could barely take it! If you don't fancy getting too adventurous with your sides, there are a range of alternatives, such as the beer battered onion stack – with chunky and tasty onion rings, you can't go wrong!
Of course I had to try a milkshake, and keeping it nutty, I went for the peanut butter shake. In one word: yummy!
Meatcure is one of those places you can go on a casual date or have a family outing and know that you will enjoy a great atmosphere and even greater food at wallet-friendly prices. What's more, they have monthly specials and new options created for different occasions, such as the June special Forrest Gump and the Fathers Day Special last weekend with beef patty, dill pickle, brisket, gravy and mac and cheese. For those thinking of an affordable lunch treat, you can have a mini classic and fries for just £6. I'd say, definitely worth checking out! Now a convert, I am definitely ready to go bonkers for more burgers at Meatcure soon!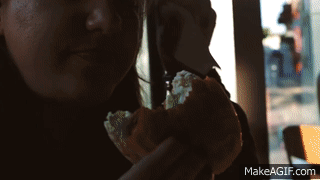 If you need further convincing, watch us (Okay, just me then!) stuffing our faces in the video.